What is your definition of a comfortable home? There are the obvious things, such as warmth, cooling, beds to sleep in and showers to keep clean. Everyone tends to have a slightly different list, but there is one common thing among most. Good functioning home appliances are desired by nearly everyone. After a long work day, you want to get home, open up the refrigerator, find something good to cook and make a nice relaxing meal. You depend on a refrigerator that successfully keeps fresh items crisp and perishable items from spoiling.  These are the times that technologically superior appliances are of the most value in the kitchen and the home. It's not enough to say that you have a quality refrigerator. The proof is in the ability to reduce the amounts of spoiled food and needed repairs to keep running efficiently. A quality refrigerator is one that you don't have to think twice about in perfect function.
The Sub-Zero refrigerator fits the definition of quality and dependability. They are committed to ensuring that food lasts and that you can live life worry-free when it comes to the durable appliances you need. Sub-Zero has been offering top quality refrigerators since 1943.
"It's attractive, roomy, and frozen food is truly frozen."- Consumer's Review.
OUR RECENT WORK: May 2019
#SubZeroRefrigerator #BI48 model, repaired in #BrentwoodCA . Refrigerator compartment leak problem is fixed. Working just great now.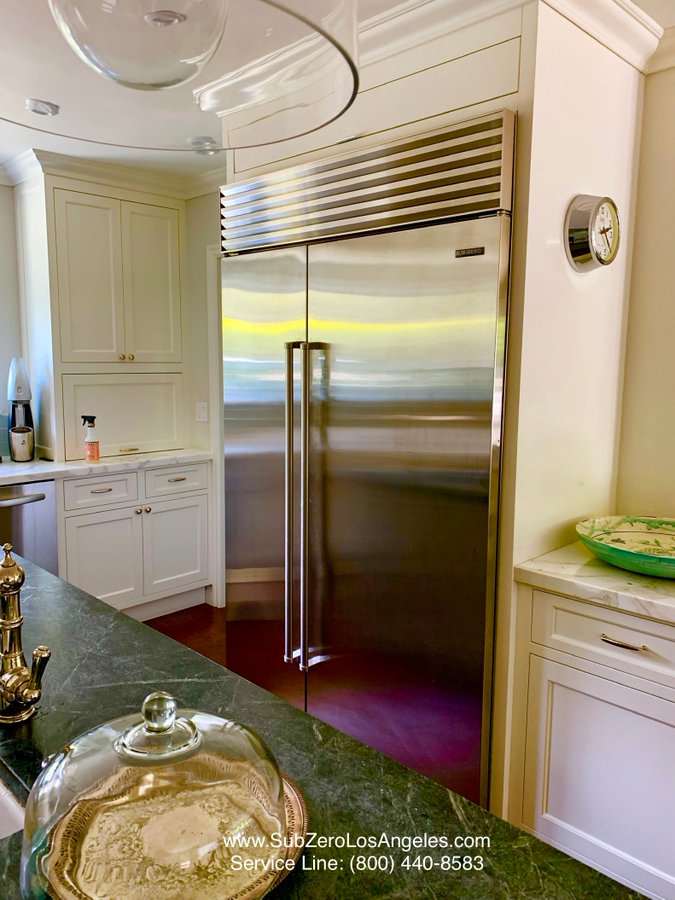 Sub Zero refrigerator repaired in Beverly Hills, CA, 2019
What Makes Sub-Zero Appliances Different?
Sub-Zero appliances stand out from the rest due mainly to the companies push to manufacture only high-quality products. Food preservation abilities are above average by using extremely low temperature storage methods and dual-refrigeration technologies. Proper and secure sealing virtually eliminates food smells and flavor mixing in every Sub-Zero freezer and refrigerator made. It protects the integrity of all fresh items. Demand for their products is also made easier through the variety of customized panels that can work with any kitchen decor. The wide selection of products, such as wine coolers, ice makers, built-in's and freezer drawer technology fits any refrigeration or freezer need.
"Really keeps things cold. Looks great; easy to clean."- Consumer's Review
The high quality firmly established by the manufacturers of Sub-Zero appliance technology is hard to beat. Some of the attractive features of a Sub-Zero refrigerator are:
Vacuum sealed doors

Humidity controlled divided drawers

Dairy compartment that adjusts for container size.

Fresh fruit, vegetable and cold cuts crisper drawer.

Accurate electronic controls for temperature stability.

Frost-free freezer compartments.
The Sub-Zero refrigerator answers every home and commercial refrigeration need. You can expect the best in quality and function.
"We have 2 of them, one is 16 years old and the other (the same model only 36 inches instead of 30) is 9 years old. NEITHER has ever had a repair. So either we're very lucky or these things are a whole lot more reliable than people and ratings say they are. Maybe it's the former — we're just lucky with this brand. But to have two of them and have no problems with either of them seems to be a good recommendation for the brand. I figure if they each last 20 years we got our money's worth. And you don't have to spend the top dollar inside the brand itself."- Consumer's Review.
 About the Service and Repair of Sub-Zero Refrigerators
There really isn't a need to clean the Sub-Zero refrigerator every day, but it is important to keep it clean on a regular basis. There are a few basic things you can do to eliminate the need for frequent service and repair. The refrigerator will last longer if you:
Carefully place any leftover food items in containers that have tight fitting lids. It will reduce food odors and spoiling. Watch how things are stacked and put away so that the doors firmly close and seal.
Major cleaning of the refrigerator should be done twice a year. Remove the plug from the power source, empty the refrigerator and wipe it down with a mild dish-washing soap. Rinse it well and return all items. Plug the refrigerator back in.
Spread a layer of plain toothpaste onto any areas that are won't come clean. Let it sit for a few minutes and then wipe it clean.
Take off the front grill and wash it occasionally. Swish a long handled duster beneath to get any dirt out from beneath the refrigerator.
A small shallow container placed at the bottom of the refrigerator with a few drops of vanilla extract will remove any lingering food odor. Wipe the shelving with lemon juice if it still hangs on.
37 degrees is the perfect temperature to maintain the refrigerator at.
Doing the above actions will help keep the refrigerator in good working order. Taking good basic care of your refrigerator will extend the life of your unit.
Repair of a Sub-Zero Refrigerator
No matter how well you take care of your Sub-Zero refrigerator, there may come a time that it breaks down and needs repairs. Irregardless of the reasons, it requires professional repair right away. There is quality repair service available all across the US for any of your Sub-Zero appliances. They will make sure that the repairs are done correctly.
Our Sub-Zero repair experts are skilled, knowledgeable and speedy at doing the exact repairs you need without keeping you waiting and wondering. You can call for free advice from 7 am to 11 pm, 7 days a week. Don't go with the first repair person you find on the Internet, or in the phone book. Saving a couple of dollars can cost you more in the long run from faulty repairs. Make sure they are qualified to offer repair service for Sub-Zero appliances.
The professional you choose for repairs needs to have access to the important and custom spare parts made specifically by Sub-Zero. They need to have the quality training it takes to install them correctly. Nothing less will do, no matter how cheap they offer the repair. Call 800-440-8583 today to make an appointment for the Sub-Zero refrigerator repair and service that you need and deserve.
OUR RECENT WORK: Spring of 2019
Gorgeous Sub-Zero refrigerator 690 model recently repaired by our technician Mark in Los Feliz area.
Contact our Sub-Zero Refrigeration Repair Experts:
Toll FREE: 1-(800)-440-8583
Our Phones:
West Los Angeles:       (310) 751-0414
SF Valley areas:            (818) 640-7877
E-mail: service@subzerolosangeles.com